Floor standing autoclaves for laboratory and production with square and round chamber
Floor-standing units with 150 to 1,200 litre chamber volume
Our floor standing autoclaves are powerful, compact and economical for use in laboratories and pharmaceuticals. Due to the wide range of options they offer the right solution for every application.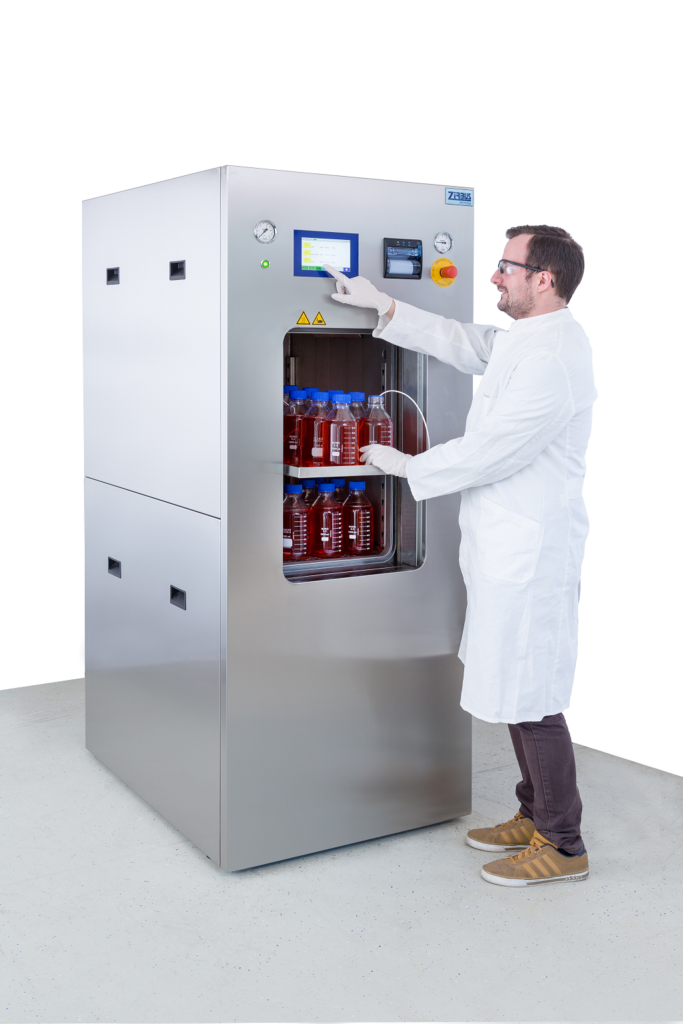 Autoclaves from 150 to 304 litres chamber volume
Compact units with square sterilization chamber and space-saving vertical door with fully automatic locking system. The rectangular chamber allows optimal use and a high loading capacity with small external dimensions.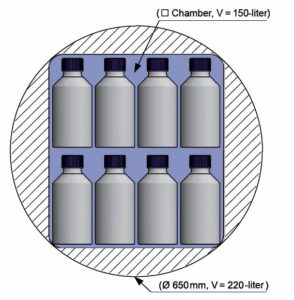 Type
HST 4x4x6
HST 4x6x6
HST 4x6x9
HST 6x6x6
Free usable space dimensions (mm)
(W)450
(H)500
(D)670
(W)450
(H)700
(D)670
(W)450
(H)700
(D)970
(W)650
(H)700
(D)670
chamber volume (litres)
150
210
305
304
external dimensions
in the single-door version (mm)
(W)800
(H)1950
(D)1100
(W)800
(H)1950
(D)1100
(W)980
(H)1950
(D)1400
(W)980
(H)1950
(D)1100
Autoclaves from 440 to 849 litres chamber volume
They provide an excellent ratio between usable space and space requirements. Nevertheless, they can be fully equipped with customer-oriented system solutions to complete their sterilization tasks quickly, safely and reliably.
Type
HST 6x6x9
HST 6x6x12
HST 6x6x16
HST 6x6x18
Free usable space dimensions (mm)
(W)650
(H)700
(D)970
(W)650
(H)700
(D)1270
(W)650
(H)700
(D)1670
(W)650
(H)700
(D)1870
chamber volume (litres)
440
577
758
849
external dimensions
in the single-door version (mm)
(W)980
(H)1950
(D)1400
(W)980
(H)1950
(D)1700
(W)980
(H)1950
(D)2100
(W)980
(H)1950
(D)2300
Autoclaves from 370 to 1.030 litres chamber volume
Typ
HST 8x6x6
HST 8x6x9
HST 8x6x12
HST 8x6x14
HST 8x6x16
HST 8x6x18
Free usable space dimensions (mm)
(W)650
(H)850
(D)670
(W)650
(H)850
(D)970
(W)650
(H)850
(D)1270
(W)650
(H)850
(D)1470
(W)650
(H)850
(D)1670
(W)650
(H)850
(D)1870
chamber volume (litres)
370
535
700
812
922
1.030
external dimensions
in the single-door version (mm)
(W)1250
(H)1950
(D)1100
(W)1250
(H)1950
(D)1400
(W)1250
(H)1950
(D)1700
(W)1250
(H)1950
(D)1900
(W)1250
(H)1950
(D)2100
(W)1250
(H)1950
(D)2300
The following options are available to adapt the autoclaves exactly to your tasks:
Equipment
House steam version, for connection to a central steam supply system
Pass-through version with gas-tight separation for safety laboratories and clean rooms
GMP-compliant design according to DIN 58950 and FDA regulations
Fast water recooling via a large double jacket. In conjunction with the support pressure control via a sterile air filter, ensures the shortest possible recooling times for liquid media.
Connection to a house supplied ring cooling system for water saving, the heat exchange takes place via a plate heat exchanger.
Recirculation fan, further shortens the cooling time and offers the possibility of sterilisation in a steam-air mixture.
Hot water sprinkler system (HWSS), for fast and gentle sterilization of liquids in closed vessels.
Spray cooling, for rapid cooling of liquids in closed vessels.
Exhaust air filter with condensate inactivation, for the sterilisation of infectious goods of risk class S2 and S3. Filter retention rate: > 99.5% 0.02µm
Vacuum pump set with water saving device, for the safe evacuation of air from the sterile material by means of a single-stage or fractional prevacuum. Allows dry removal of the sterile material at the end of the process.
Transport and charge trolley for ergonomic loading and unloading.
Insert baskets and waste sterilization containers with closed bottom and lid, for optimum use of the sterilization chamber
Documentation Features
Network-compatible digital charge recording and user management system in connection with Siemens WinCC FDA 21 CFR Part 11 compliant.
6-channel colour line recorder for control-independent batch documentation on 120mm wide plain paper.
10-channel screen recorder for FDA 21 CFR Part 11 compliant digital batch documentation, network-compatible.
USB stick for storing up to 1,000 charges on an USB stick. The data can be read out on a PC for evaluation.
Documentation software "Sterilog" for direct documentation of the sterilization process on a PC. Communication takes place via an Ethernet interface.
Qualification DQ, IQ and OQ according to DIN 589510 and FDS, HDS, SDS for pharmaceutical use

Continue to the Standautoclaves – Round